[Event report] 8th Keio-Stanford Webinar (held on March 26, 2022)
2022.05.12
8th Keio-Stanford Webinar
The 8th Keio-Stanford Webinar was held on Saturday, March 26, 2022. The theme of the latest session was Current Topics in Neuroscience, with the Department of Anesthesiology, Perioperative and Pain Medicine (SLDDDRS) at Stanford School of Medicine; and the Keio University Department of Physiology at the School of Medicine and Yagami Data Security Lab, acting as hosts, while KGRI; the Life Science Innovation Network Japan (LINK-J); and the Japan Science and Technology Agency (JST) served as co-hosts. Approximately 150 people attended the webinar.
To begin, Professor Hideyuki Okano (Keio University School of Medicine; Head of International Advisory Board of SLDDDRS) delivered the opening remarks, explaining the significance of the Keio-Stanford Webinar and the webinar theme "Current Topics in Neuroscience."
The event then continued with lectures from four speakers.

In Keynote Lecture 1, Professor Thomas C. Südhof of Stanford University (Winner of the 2013 Nobel Prize in Physiology or Medicine) gave a research presentation on Teneurin, a novel synaptic organizer. He introduced the latest findings on the structure of Teneurin, the heterophilic binding mode, and its function as a presynaptic organizer.

In Keynote Lecture 2, Professor Hideyuki Okano presented his research on iPS cell-based regenerative therapy for spinal cord injuries. He presented a wide-range of research, including the identification of neural stem cells in adult human brains, the validation of iPS cell-derived neural stem cell transplantation in mouse and non-human primate models, and the ongoing first-in-human clinical trials.

In Keynote Lecture 3, Professor Yasue Mitsukura of the Department of System Design Engineering at the Keio University Faculty of Science and Technology presented a method to measure sleep stages by using only electrocardiogram data by a unique data processing technology she developed.

In Keynote Lecture 4, Professor Masato Yasui of the Department of Pharmacology at the Keio University School of Medicine presented his research on aquaporin-4. He introduced a novel approach to treat neuromyelitis optica (NMO) by monoclonal anti- aquaporin-4 antibodies that selectively block NMO autoantibody binding to aquaporin-4. He also presented that aquaporin-4 knockout had an effect on symptoms of neurodegenerative diseases.
A Q&A session was also held with lively exchanges of questions and answers from the panelists and audience. Professor Hideyuki Okano and Professor Peter Kao (Stanford University School of Medicine, SLDDDRS) delivered the closing remarks and summarized the webinar.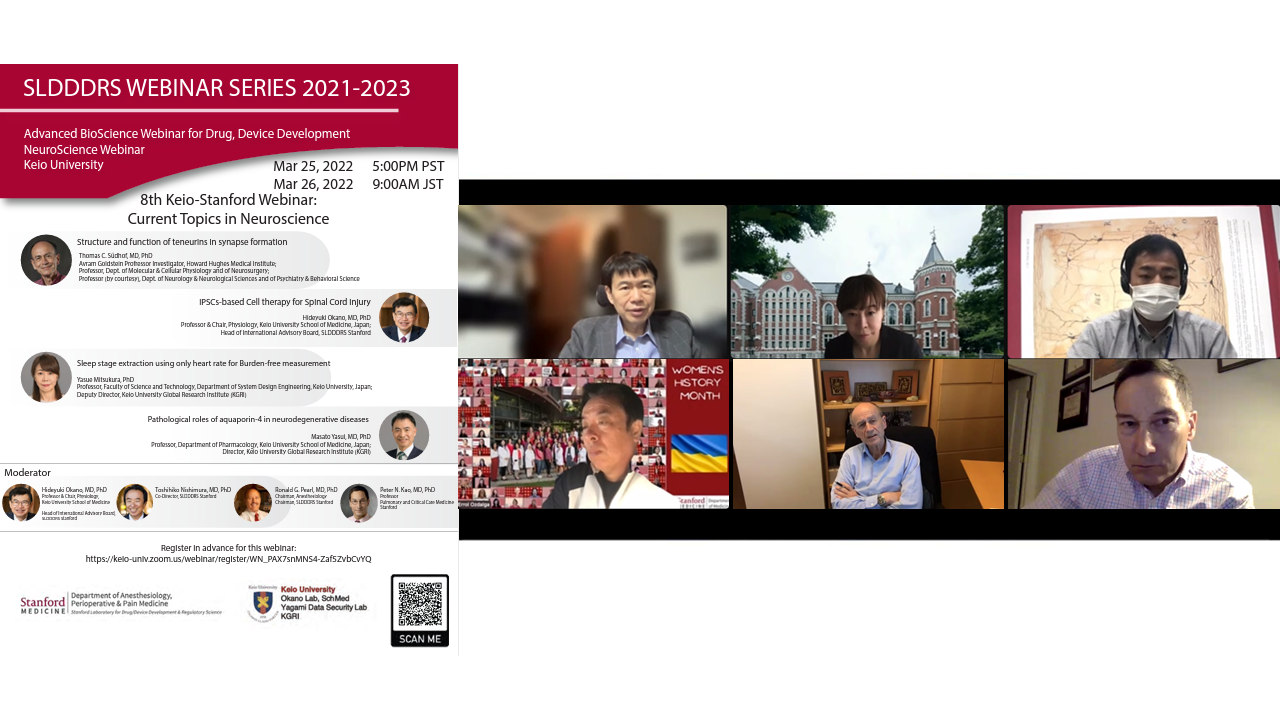 [Event information]
8th Keio-Stanford Webinar (March 26, 2022)
[Event report]
1st Keio-Stanford Webinar "Neurodegenerative diseases" (held on January 30, 2021)
2nd Keio-Stanford Webinar "Organoids" (held on March 20, 2021)
3rd Keio-Stanford Webinar "Regenerative medicine" (held on May 29, 2021)
4th Keio-Stanford Webinar "Sleep" (held on July 17, 2021)
5th Keio-Stanford Webinar "Transdifferentiation by Manipulating Transcriptional Factors" (held on October 16, 2021)
6th Keio-Stanford Webinar "Frontiers of molecular cell biology and its implementation in society" (held on November 6, 2021)
7th Keio-Stanford Webinar "Advanced BioScience Webinar for Drug, Device Development" (held on January 22, 2022)