[Event report] 3rd Keio-Stanford Webinar (held on May 29, 2021)
2021.06.14
3rd Keio-Stanford Webinar
The third Keio-Stanford Webinar was held on Saturday, May 29, 2021. The theme of the event this time was "regenerative medicine." The event was hosted by the Department of Anesthesiology, Perioperative and Pain Medicine (SLDDDRS) at the Stanford University School of Medicine, Department of Physiology at the Keio University School of Medicine, and Keio University Yagami Data Security Lab, in collaboration with KGRI, Life Science Innovation Network Japan (LINK-J), and Japan Science and Technology Agency (JST). About 100 participants took part in this webinar.
The event began with the opening remarks of Professor Toshihiko Nishimura (Stanford University School of Medicine, SLDDDRS), who explained the significance of the Keio-Stanford Webinar series and the theme of the third webinar.
This was followed by talks from 4 lecturers:

In Plenary Talk 1, Professor Hideyuki Okano of the Keio University School of Medicine introduced a wide range of latest outcomes, including those from basic research on neural stem cells and their application to the regenerative medicine of spinal cord injuries and understanding the pathology of neurological diseases, as well as actual application examples of iPS cells in drug discovery for amyotrophic lateral sclerosis.
In Plenary Talk 2, Professor Irving Weissman (Institute for Stem Cell Biology and Regenerative Medicine, Stanford University School of Medicine) reported on the achievements of basic research into hematopoietic stem cells and clinical applications of CD47 molecules. In particular, the expression analysis of CD47 in relation to blood cancers and examples of applications with CD47 molecules as targets were introduced.
In Short Talk 1, Assistant Professor Shugo Tohyama of the Keio University School of Medicine introduced a method for isolating cardiac muscle cells from iPS cells using metabolic characteristics as well as research results on the effects of metabolic signals on the metabolic mechanisms of iPS cells and cardiac muscle cells.
In Short Talk 2, Visiting Assistant Professor Yo Mabuchi of the Keio University School of Medicine introduced the results of isolating and identifying human mesenchymal stem cells as well as the effects of gene signals on senescence.
Question and answer sessions were held after each presentation as panel discussions. The panelists and audience members asked a variety of questions, including on the researchers' thoughts regarding the relationship between mesenchymal stem cells and neural crest cells in relation to the use of a neural crest cell marker (p75: CD271) as the mesenchymal stem cell marker.
Professor Ronald Pearl (Stanford University School of Medicine, SLDDDRS) concluded the event with his closing remarks, summarizing the contents of this webinar. He also announced that the next Keio-Stanford Webinar will be held in 2 months' time. With the latest research outcomes being introduced and lively discussions taking place among the young and senior researchers, this was a webinar that had significant value from both a research and academic perspective.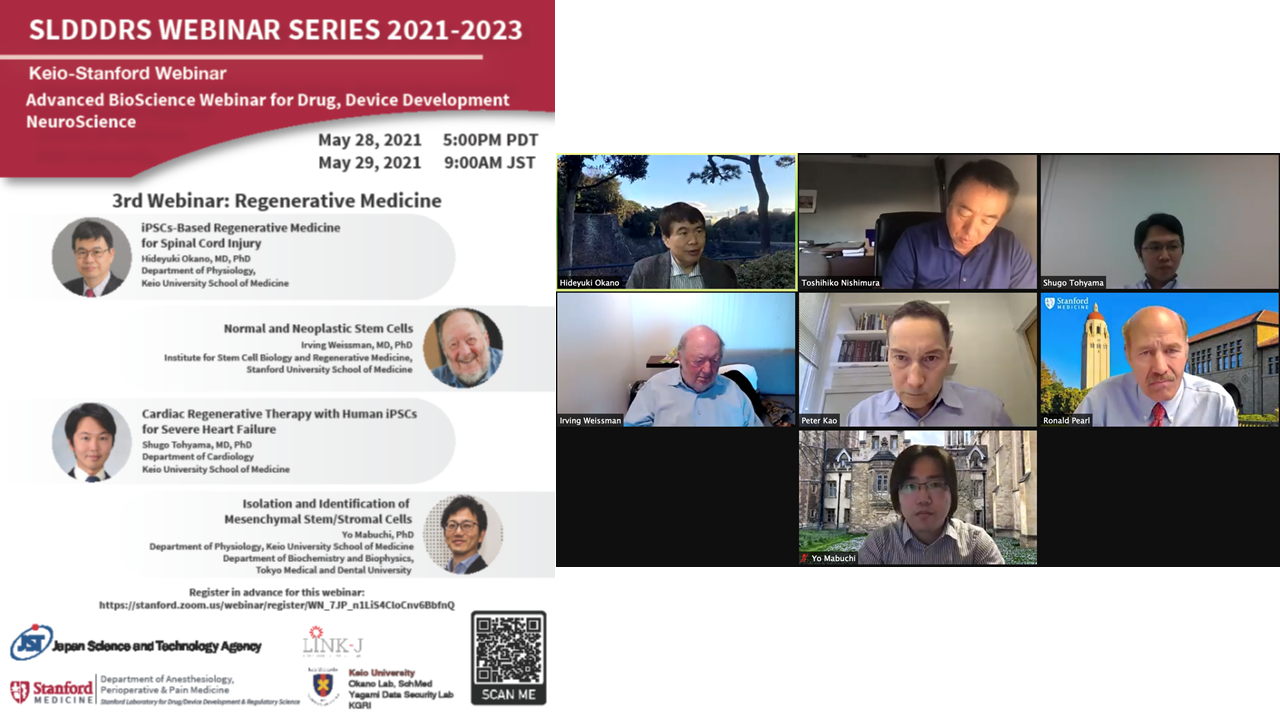 [Event information]
3rd Keio-Stanford Webinar (May 29, 2021)
[Event report]
1st Keio-Stanford Webinar (January 30, 2021)
2nd Keio-Stanford Webinar (March 20, 2021)