About KGRI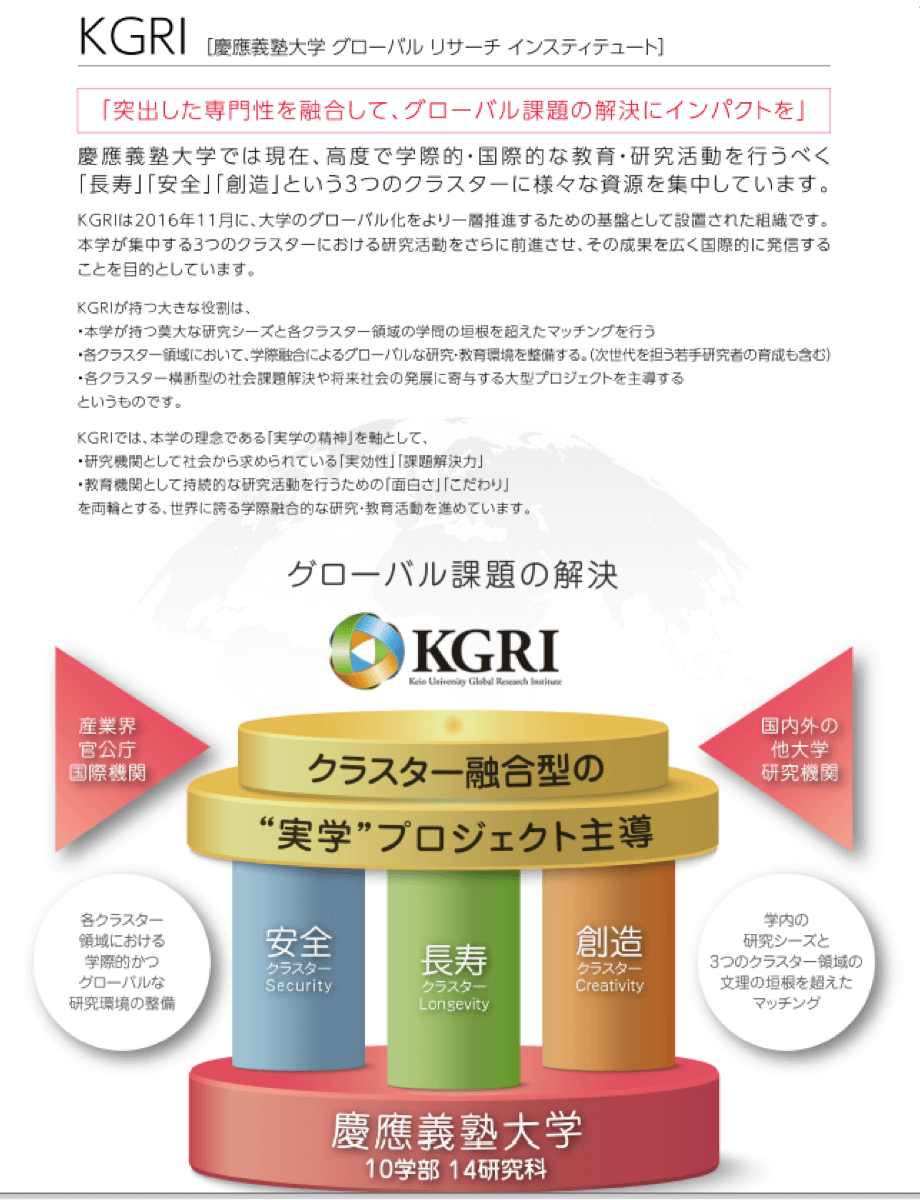 Keio University Global Research Institute (KGRI) was established in November 2016 as a result of an expansive reorganization of the existing Keio University Global Security Research Institute (G-SEC), and as a base to facilitate the further globalization of the university to become an international research university that can make positive contributions to the world.
Keio University was selected for the Top Global University Project by the Ministry of Education, Culture, Sports, Science and Technology (MEXT) in 2014 as one of Japan's top universities providing a world-class level of research and education. Under the project, and in line with Yukichi Fukuzawa's founding principles, the university is striving to enhance the sustainability of global society through jitsugaku (science). It has created three research initiatives of Longevity, Security, Creativity, to facilitate interdisciplinary research and will build on its strength as a comprehensive university in which research in a wide range of disciplines from the social sciences to the natural sciences is carried out.
As the base for the three initiatives, KGRI will work closely with the related educational and research departments within the university to promote interdisciplinary and transdisciplinary research and disseminate the findings to the world.
Research projects under these three initiatives are being carried out at KGRI. Researchers specializing in not just one but multiple disciplines participate in each project pursuing transdisciplinary research. By applying specialized, cutting-edge research conducted at the undergraduate faculties and graduate schools in an interdisciplinary way, the university is seeking to find solutions to various social issues.
KGRI is where Keio's leading research, education, and society converge. It is also a platform on which interdisciplinary research is actively in progress, where next-generation researchers are developed and produced, and from which research findings are shared within and outside Japan with the goal of contributing to sustainable development.
Message from the Director
In the 20th century, academic fields were segmented into different specializations and the remarkable speeds at which these developed gave rise to a wealth of achievements. On the other hand, the large number of divisions also brought with it the seeming contradiction that it has become more difficult to grasp particular academic fields as a whole. On reflection on this fact, as well as by necessity, attempts at interdisciplinary, integrative, and systematic approaches arose across various specialized fields in the 21st century.
Education and research at Keio University has had the "spirit of jitsugaku" as emphasized by Yukichi Fukuzawa as its underlying principle. While there are many different definitions of "jitsugaku," an interdisciplinary approach is imperative to its practice. Education and research perspectives highlight that learning is not confined to academic discipline, but there are renewed calls for the pursuit of knowledge that also results in returns which benefit society itself. Keio University has undertaken the mission of leading society in the 21st century fueled by its tradition of "jitsugaku."
In the midst of such changes in academia, KGRI was established in 2016. With the three pillars of research currently adopted by Keio University, namely "Longevity," "Security," and "Creativity," as its foundation, it is anticipated that KGRI will drive the university's world-class, top-level interdisciplinary research. To this end, it is necessary to provide a global research environment open to the world while fostering young leaders who will be responsible for the next generation.
Through the activities of KGRI, I not only hope that phrases and terms such as "integration of the sciences and humanities" and "transdisciplinary" will become redundant in the near future, but that we can pave the way for an interdisciplinary environment where the inclusion of such aspects is the norm. The thought of students produced by such environments making their way into the world is truly a wonderful prospect.
Director Masato Yasui
Keio University Global Research Institute
Introduction of the Director and Deputy Directors
Director
Masato Yasui (Professor, School of Medicine)
Deputy Directors
Tatsuhiko Yamamoto (Professor, Law School)
Jin Nakahara (Professor, School of Medicine)
Kenji Yasuoka (Professor, Faculty of Science and Technology)
Toshihiro Nakayama (Professor, Faculty of Policy Management)
Past Directors and Deputy Directors
About Project Members, Researchers