[Event report] 1st Keio-Stanford Webinar (held on January 30, 2021)
2021.02.01
1st Keio-Stanford Webinar
The 1st Keio-Stanford Webinar was held on Saturday, January 30, 2021, on the theme of neurodegenerative diseases. The webinar was hosted by the Department of Anesthesiology, Perioperative and Pain Medicine at the Stanford University School of Medicine and the Department of Physiology at the Keio University School of Medicine, in cooperation with Life Science Innovation Network Japan (LINK-J) and KGRI. Approximately 100 people participated in the online seminar. Future events are due to be held bimonthly covering a variety of topics over the next three years to deepen ties between Keio University and Stanford University.
The event began with the opening remarks given by Stanford Professor Ronald Pearl of the Department of Anesthesiology, in which he explained the significance of the Keio-Stanford Webinar series. He was followed by Keio Professor Hideyuki Okano of the School of Medicine, a KGRI senior researcher and dean of the Graduate School of Medicine, who, after introducing Keio University and its School of Medicine, detailed the topics of future Keio-Stanford Webinars.
The event then continued with lectures from four speakers:

In Keynote Lecture 1, Professor Okano introduced a series of studies on pathological analyses, drug development, and the clinical trial (ROPALS trial) for amyotrophic lateral sclerosis (ALS), a neurodegenerative disease, using Ropinirole, which was identified as a potential anti-ALS drug in their iPS cell-based drug screening.
In Keynote Lecture 2, Professor Aaron Gitler of Stanford's Department of Genetics presented the latest research outcomes of an analysis of motor neuron diversity that utilized single cell RNA-sequencing technology.
In Short Talk 1, Project Assistant Professor Satoru Morimoto at Keio's School of Medicine introduced the outcomes of a pathological analysis study utilizing iPS cell technology for a unique neurodegenerative disease known as Kii peninsula amyotrophic lateral sclerosis/parkinsonism-dementia complex (Kii ALS/PDC), which is characterized by the concurrent onset of ALS, Parkinson's disease, and dementia.
In Short Talk 2, Visiting Research Fellow at the Keio School of Medicine and RIKEN researcher Dr. Reona Kobayashi presented the outcomes of the creation and analysis of genetically modified marmosets for Parkinson's disease modelling.
During the Q&A session, the panelists and audience members asked questions such as the below, making it a very lively session and the webinar an extremely informative and valuable event:
How do you explain the phenotype of nerite retraction and the pathogenic mechanism of ALS due to abnormal RNA-binding proteins?
Can the responsiveness of medication (ropinirole) for sporadic ALS be explained from genomic data?
Can motor neuron subsets (α cells, β cells, γ cells, etc.) classified using single cell RNA-sequencing technology be specifically induced through the introduction of transcription factors that are characteristic to each subset?
How are the individual phenotypes for the genetically modified marmosets for Parkinson's disease modelling explained?
How is L-dopa responsiveness explained?
What are your thoughts on the significance of heat shock protein (hsp) as a treatment for Kii ALS/PDC?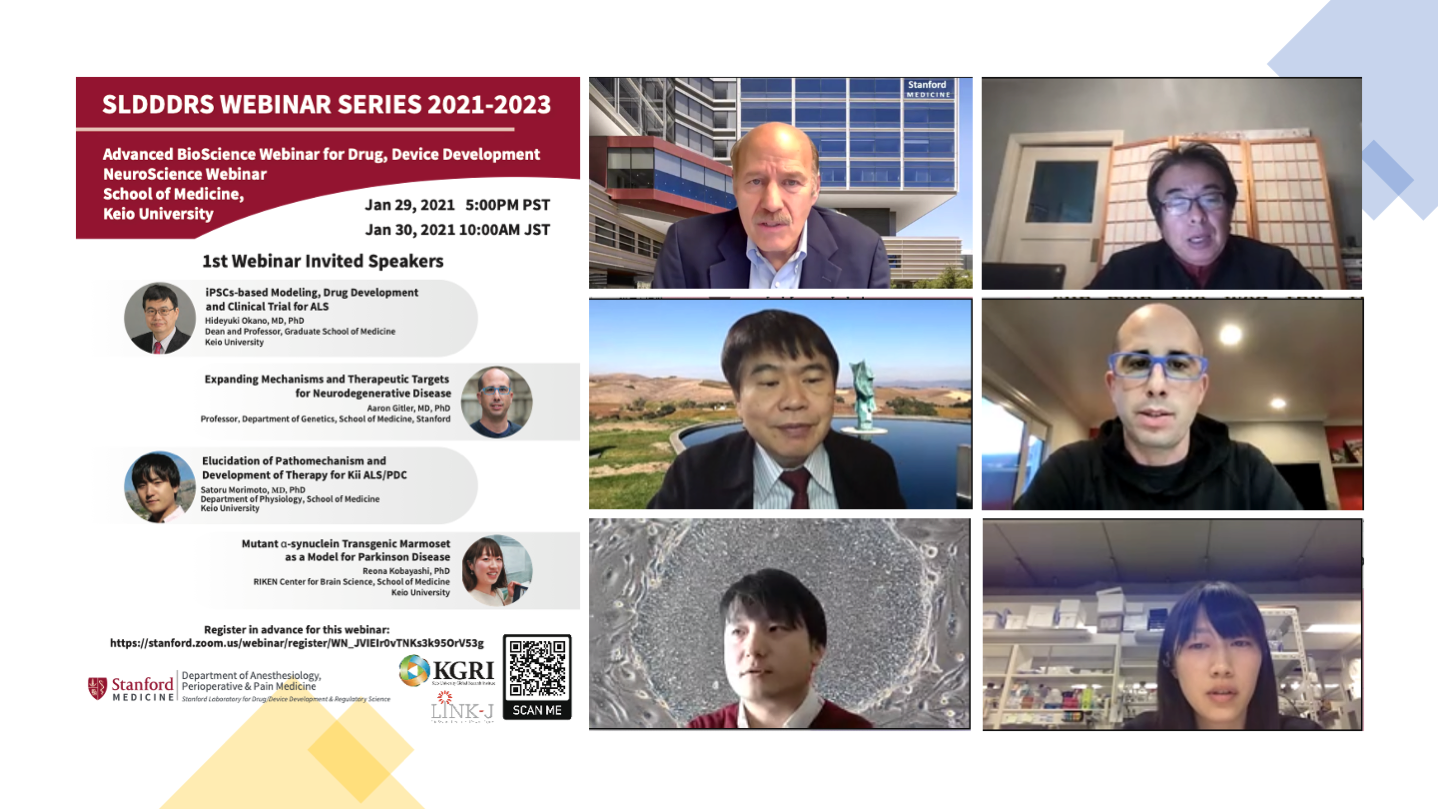 [Event information]
Keio-Stanford Webinar Series (January 30, 2021)