[Event report] 7th Keio-Stanford Webinar (held on January 22, 2022)
2022.02.20
7th Keio-Stanford Webinar
The 7th Keio-Stanford Webinar was held on Saturday, January 22, 2022. The webinar was hosted by the Department of Anesthesiology, Perioperative and Pain Medicine (SLDDDRS) at Stanford School of Medicine; the Department of Physiology at the School of Medicine and Yagami Data Security Lab at Keio University, with the support of the Keio Global Research Institute (KGRI); the Life Science Innovation Network Japan (LINK-J); and the Japan Science and Technology Agency (JST).
The event generated a great deal of interest with approximately 150 participants attending the webinar who represented both domestic and international academic and private sectors.
The theme of the event was "Glial Cell Biology," with four speakers delivering lectures on this recent hot topic. The event began with opening remarks from Professor Hideyuki Okano (Department of Physiology, Keio University School of Medicine; Head of International Advisory Board of the SLDDDRS), touching upon the significance of the Keio-Stanford Webinar--a series that marked its seventh installation this year--and offering an overview of the main topic for this event: glial cell biology.
This was followed by lectures from four researchers who are at the forefront of research on glial cells and disease models in Japan and abroad.

For the first keynote speech, Dr. Marius Wernig, a professor from the Harvard Medical School and Co-director of the Institute for Stem Cell Biology and Regenerative Medicine, gave a lecture on next-generation cell therapies for central nervous system diseases. Wernig and colleagues first discovered that microglia repopulate in brains of those with microglia depletion following bone marrow transplantation, despite the presence of the blood-brain barrier. Furthermore, they found that hematopoietic stem cells (HSCs) that have been successfully implanted in mice's brains acquire morphology and gene expression patterns similar to that of microglia, dynamically altering their protrusions. These research results have the potential to impact cell therapy for various neurodegenerative diseases such as Alzheimer's disease.

For the second keynote speech, Dr. Shuichi Koizumi, a professor from the Department of Pharmacology, Faculty of Medicine, at the University of Yamanashi, delivered a lecture on the development of a "nasal transplantation method" to non-invasively transplant human microglia into mice brains. Using this technology, Professor Koizumi and his colleagues successfully transplanted human iPS cell-derived microglia into the multiple regions of mice brains, such as cortex and hippocampus. As a result, they succeed in creating "humanized mice" with microglia replaced by human cells. Many previous transplantation studies have used microglia from mice and other rodents, leaving the function of human microglia in the brain and their related mechanisms of diseases and aging unclear. In the future, Professor Koizumi's research is expected to lead to in vivo studies involving human microglia and the development of novel cell therapies.

For the first short talk, Dr. Satoru Morimoto, an Assistant Professor at Keio University School of Medicine's Department of Physiology, presented on the development of a method to generate human iPS cell-derived astrocytes (iPasts). He also discussed the use of patient iPasts to elucidate the astrocyte-specific pathogenesis of--and the development of treatments for--amyotrophic lateral sclerosis (ALS)-related diseases. The Kii Peninsula of Japan experiences a high incidence of ALS (Kii ALS/PCD) with unusual tau pathology. Using iPast technology, Dr. Morimoto and his colleagues generated astrocytes from Kii ALS/PDC patients, discovering that important functions of astrocytes, such as mitochondrial function and glutamate uptake, were impaired, and that medical treatment could restore these functions. The use of this model will accelerate the understanding of Kii ALS/PDC pathogenesis and development of treatments in the future.

For the second short talk, Iki Sonn from the Department of Physiology at the Keio University School of Medicine spoke about the development of a method to generate microglia from human iPS cells. Microglia are the only immune cells in brain parenchyma and have garnered interest in recent years due to that various risk genes of neurodegenerative diseases were found to be highly expressed by microglia. Sonn and colleagues developed a method to efficiently generate microglia from human iPS cells by overexpressing single transcription factor. They then attempted to construct disease analysis models such as a co-culture model with mouse neurons and a model involving transplantation into the mouse's brain. It is hoped that this model can be applied to the study of various neurodegenerative diseases in the future and contribute to clarifying the pathogenesis of these diseases.
After these presentations, a Q&A session was held with speakers and prominent researchers from both Japan (Professor Aikichi Iwamoto) and the US (Professor Irving Weissman) joining as panelists. The exchange with the audience facilitated a deepening understanding of each speaker's presentation, generating an abundance of new ideas and perspectives.
Finally, Professor Hideyuki Okano and Professor Peter Kao (Stanford University School of Medicine, SLDDDRS) delivered closing remarks, bringing a successful end to the 7th Keio-Stanford Webinar.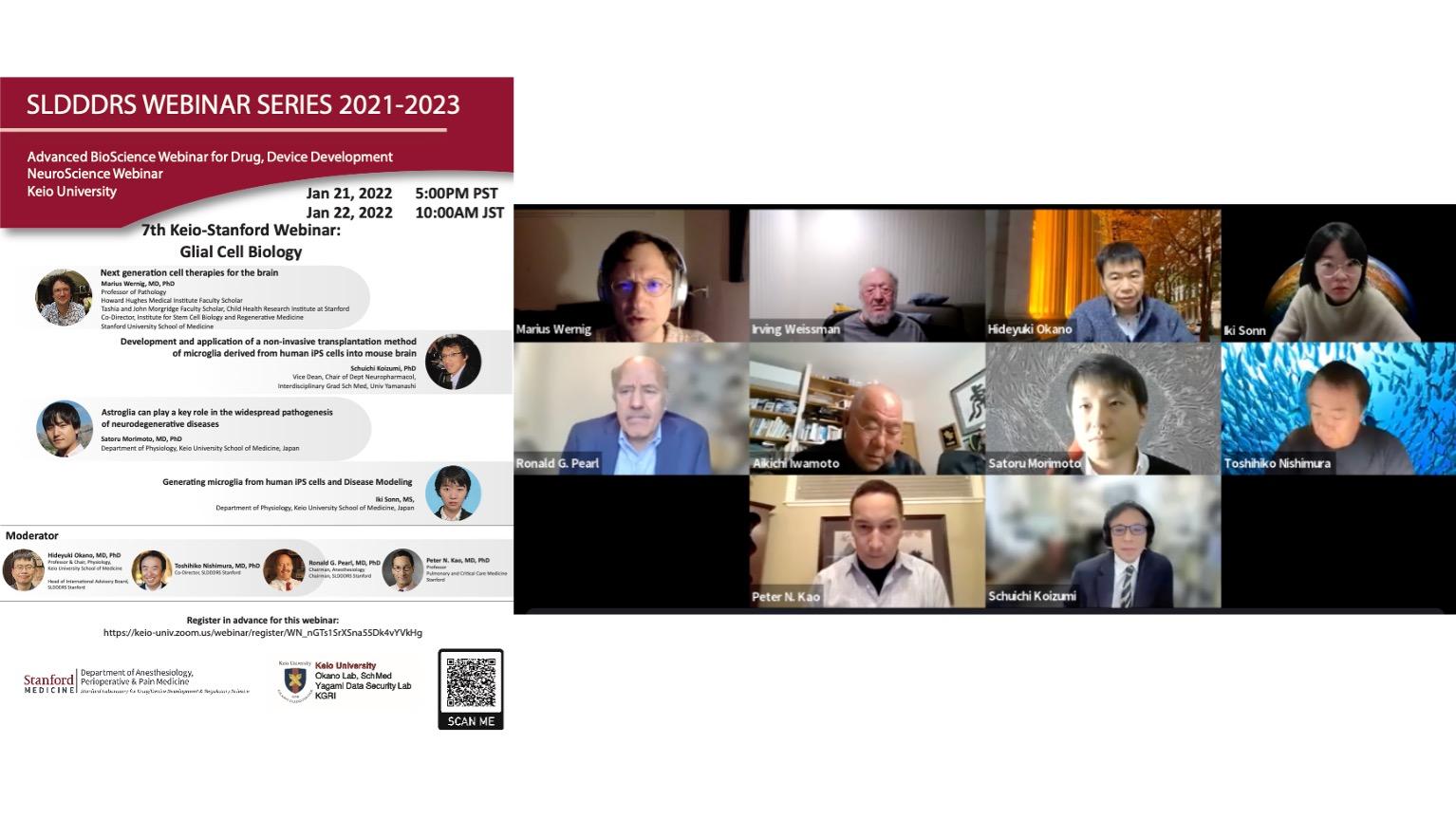 [Event information]
7th Keio-Stanford Webinar (January 22, 2022)
[Event report]
1st Keio-Stanford Webinar "Neurodegenerative diseases" (held on January 30, 2021)
2nd Keio-Stanford Webinar "Organoids" (held on March 20, 2021)
3rd Keio-Stanford Webinar "Regenerative medicine" (held on May 29, 2021)
4th Keio-Stanford Webinar "Sleep" (held on July 17, 2021)
5th Keio-Stanford Webinar "Transdifferentiation by Manipulating Transcriptional Factors" (held on October 16, 2021)
6th Keio-Stanford Webinar "Frontiers of molecular cell biology and its implementation in society" (held on November 6, 2021)