[Event report] 2nd Keio-Stanford Webinar (held on March 20, 2021)
2021.05.13
2nd Keio-Stanford Webinar
The second Keio-Stanford Webinar was held on Saturday, March 20, 2021. The theme of the webinar this time was "organoids." The event was hosted by the Department of Anesthesiology, Perioperative and Pain Medicine at the Stanford School of Medicine and the Department of Physiology of the Keio University School of Medicine in collaboration with KGRI. About 100 participants took part in this webinar.
The event began with the opening remarks of Professor Ronald Pearl (Department of Anesthesiology, Stanford University School of Medicine), in which he talked about the significance of the Keio-Stanford Webinar.
The event then continued with lectures from four speakers:

In Plenary Talk 1, Professor Toshiro Sato of the Keio University School of Medicine introduced the latest results on the creation of intestinal organoids and their application in understanding the pathology of inflammatory bowel disease and gastrointestinal tumors as well as in regenerative medicine for short bowel syndrome.
In Plenary Talk 2, Professor Sergiu P. Pasca (Department of Psychiatry and Behavioral Sciences, Stanford University School of Medicine) presented a wide range of research achievements, from the development of methods to create brain organoids and an analysis of neurological disorders to the methods for reproducing complex connections of the central nervous system by fusing organoids with each other.
In Short Talk 1, Project Assistant Professor Kent Imaizumi of the Keio University School of Medicine presented research outcomes on how the mechanism for regulating neurogenesis patterns are determined by size through the use of brain organoids.
In Short Talk 2, Project Senior Assistant Professor Hiroko Ishii-Shimada of the Keio University School of Medicine introduced analysis results of organoid models for Alzheimer's disease and frontotemporal lobar degeneration (FTLD).
During the question and answer session, the panelists and audience members asked a variety of questions, including on the involvement of immune cells in the study of gastrointestinal diseases using intestinal organoids; the specificity of neuron projection when organoids are fused together; and the concentration gradient of molecules that are directly involved in regulating size during neurogenesis.
Professor Hideyuki Okano, the Dean of the Graduate School of Medicine and a Senior Institute Member of KGRI, gave the closing remarks, explaining the future themes for the Keio-Stanford Webinar. The successful dissemination of the latest research findings and lively question and answer session made this webinar an extremely valuable and informative event.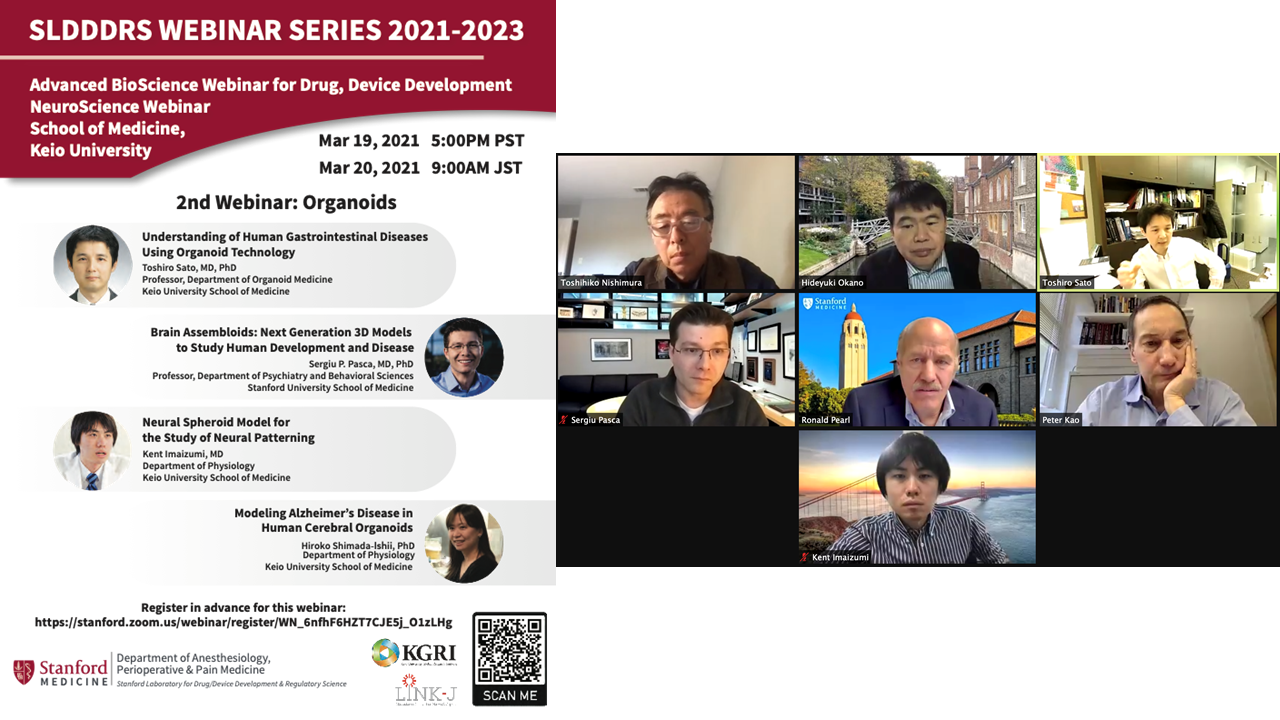 [Event information]
2nd Keio-Stanford Webinar (March 20, 2021)
[Event report]
1st Keio-Stanford Webinar (January 30, 2021)