[Event report] 4th Keio-Stanford Webinar (held on July 17, 2021)
2021.08.20
4th Keio-Stanford Webinar
The 4th Keio-Stanford Webinar was held on Saturday, July 17, 2021. The theme of the current session was "sleep," with the Department of Anesthesiology, Perioperative and Pain Medicine (SLDDDRS) at Stanford School of Medicine; and the Department of Physiology at the School of Medicine and Yagami Data Security Lab at Keio University, acting as hosts, while KGRI; the Life Science Innovation Network Japan (LINK-J); and the Japan Science and Technology Agency (JST) served as co-hosts. Approximately 100 people participated in the session, which took the form of an online seminar.
Proceedings began with the opening remarks, delivered by Professor Toshihiro Nishimura (Stanford University School of Medicine, SLDDDRS), explaining significance of the Keio-Stanford Webinar series, and explained the theme of the current webinar.
The event then continued with lectures from three speakers.

In the first Keynote Speech, Professor Seiji Nishino of the Sleep and Circadian Neurobiology Laboratory at Stanford University School of Medicine, gave a lecture on the role of Sirtuins in sleep and circadian rhythm disorders in the elderly. Sirtuin genes, otherwise known as the longevity genes, consist of the seven related genes SIRT 1-7. Sirtuin gene products deacetylate histones, and their activation is thought to be involved in extending the lifespan of individuals. Among these, SIRT 1 and SIRT 6 were shown to be involved in circadian rhythms and aging. In particular, the expression of SIRT6 decreases with age and is activated by free fatty acids, which has attracted attention as a molecular mechanism leading to abnormalities in diurnal rhythms caused by aging and high-fat diets.
In the second Keynote Speech, Dr. Masanori Sakaguchi (Visiting Associate Professor at the Department of Physiology, Keio University School of Medicine) and Associate Professor at the International Institute for Integrative Sleep Medicine at the University of Tsukuba, delivered a lecture on fascinating outcomes relating to the functional importance in memory consolidation of sporadic electrical activity in newly generated neurons in the adult hippocampus during REM sleep. While sleep (in particular REM sleep) is known to play important roles in maintaining brain homeostasis; memory consolidation at the system level; adult neurogenesis at the cellular level; spine reorganization at the synaptic level. Dr. Sakaguchi's research has been excellent and has led to integrated understanding of the role played by REM sleep.
During Short Talk 1, Project Assistant Professor Brian Sumali, a lecturer in system design engineering at the Keio University Faculty of Science and Technology, gave an overview of the development of a new analysis method for sleep stages using the physiological phenomenon of heart rate variability, namely fluctuations in the time intervals between heartbeats. While polysomnography, a relatively complicated device, is used in clinical practice to analyze sleep stages, the research group of Project Assistant Professor Sumali and Prof. Mitsukura has successfully developed a method to analyze sleep stages using a simple device called BCG. A study of 25 healthy subjects has already shown that this system can be used to accurately analyze sleep stages. It is expected to be applied to the analysis of various diseases in the future.
A Q&A session was held in a panel discussion format following each presentation, with lively exchanges of questions and answers from the panelists and audience ensuing.
Professor Hideyuki Okano (Keio University School of Medicine; Head of International Advisory Board of SLDDDRS), and Professor Peter Kao (Stanford University School of Medicine, SLDDDRS) delivered the closing remarks for the session, during which they wrapped up the content of the webinar. It was also announced that the Keio-Stanford webinar will be held again in two months' time. Overviews of the latest research findings, and lively discussions involving early career and seasoned participants, ensured that this proved to be a webinar of notable research and educational value.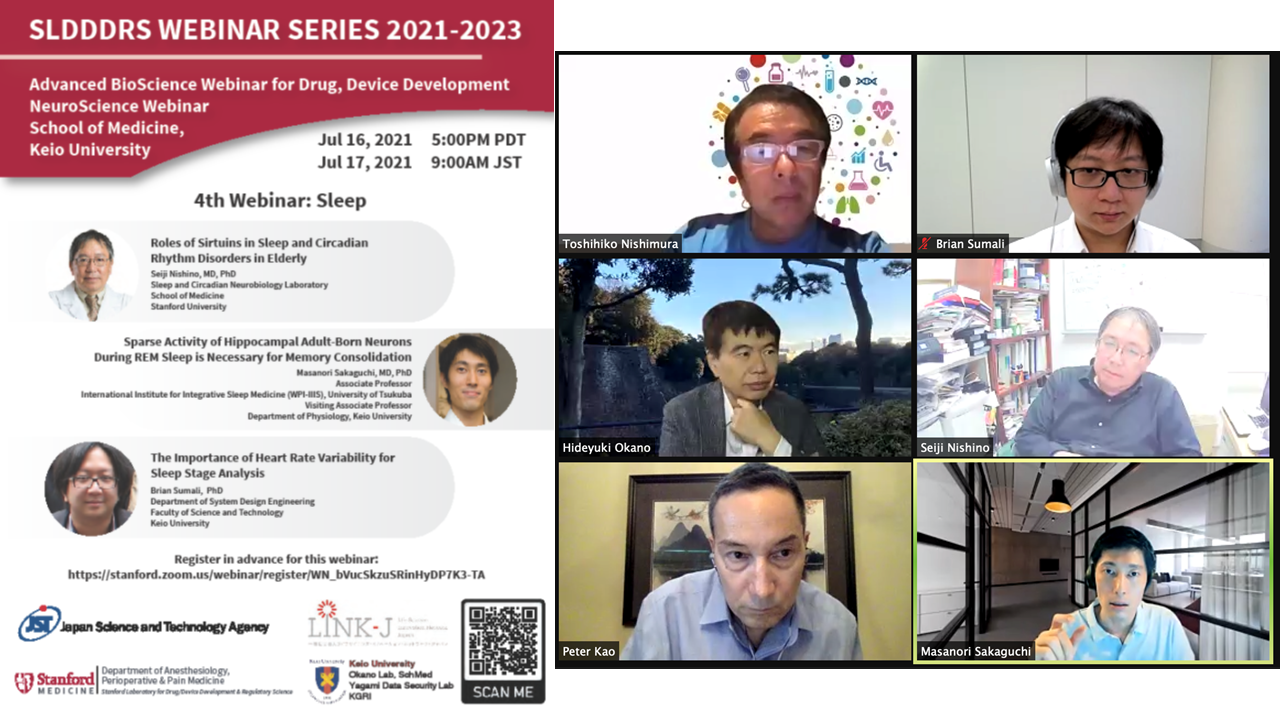 [Event information]
4th Keio-Stanford Webinar (July 17, 2021)
[Event report]
1st Keio-Stanford Webinar (held on January 30, 2021)
2nd Keio-Stanford Webinar (held on March 20, 2021)
3rd Keio-Stanford Webinar (held on May 29, 2021)