[Event Report] 10th Keio-Stanford Webinar (held on October 1, 2022)
2022.10.26
10th Keio-Stanford Webinar
The 10th Keio-Stanford Webinar was held on Saturday, October 1, 2022. The theme of the current session was Functional Genomics. The Department of Anesthesiology, Perioperative and Pain Medicine (SLDDDRS) at Stanford School of Medicine; and the Department of Physiology at the School of Medicine and Yagami Data Security Lab at Keio University, acted as hosts, while KGRI; the Life Science Innovation Network Japan (LINK-J); and the Japan Science and Technology Agency (JST) served as co-hosts. Approximately 100 people participated in the session, which took the form of an online seminar or "webinar."
To begin Professor Ronald G. Pearl (Chairman, SLDDDRS Stanford) and Professor Hideyuki Okano (Keio University School of Medicine; Head of International Advisory Board of SLDDDRS) delivered the opening remarks, explaining the significance of the Keio-Stanford Webinar and sharing the latest findings and techniques in the field of embryology in accordance with the webinar theme of Functional Genomics.
The event then continued with lectures from four speakers.

For the first keynote speech, Professor Joanna Wysocka of Stanford University presented on the mechanisms of facial development. Her research dealt with the SOX9 gene, which is important to facial development. By modulating its expression levels, they were able to clearly identify concentration-dependent target genome regions. She further introduced how changes in SOX9 expression actually affect facial formation.

For the second keynote speech, Dr. Piero Carninci of RIKEN Center for Integrative Medical Sciences introduced the FANTOM project, which uses CAGE technologies to identify all of the transcripts in various cell types. Focusing on the importance of IncRNAs (long non-coding RNAs), he elucidated how these IncRNAs interact with various regions of the genome using RADICL-seq. He further introduced details of how these IncRNAs are implicated in cell differentiation.

In Short Talk 1, Associate Professor Yuka Iwasaki, of the Keio University School of Medicine, presented on PIWI-piRNA-induced changes in nuclear architecture. She introduced the mechanisms by which PIWI-piRNAs target transposons and localize around the nuclear membrane to repress gene expression.

In Short Talk 2, Instructor Tsukasa Sanosaka of the Keio University School of Medicine presented on tissue-specific regulatory mechanisms of gene expression. He gave details of a study in which CHD7 bound to a cell type-specific enhancer region in neural progenitor cells and neural crest cells to regulate gene expression.
A Q&A session was also held during the event, with lively exchanges of questions and answers from the panelists and audience. Professor Hideyuki Okano and Professor Peter Kao (Stanford University School of Medicine, SLDDDRS) delivered the closing remarks and summarized the webinar.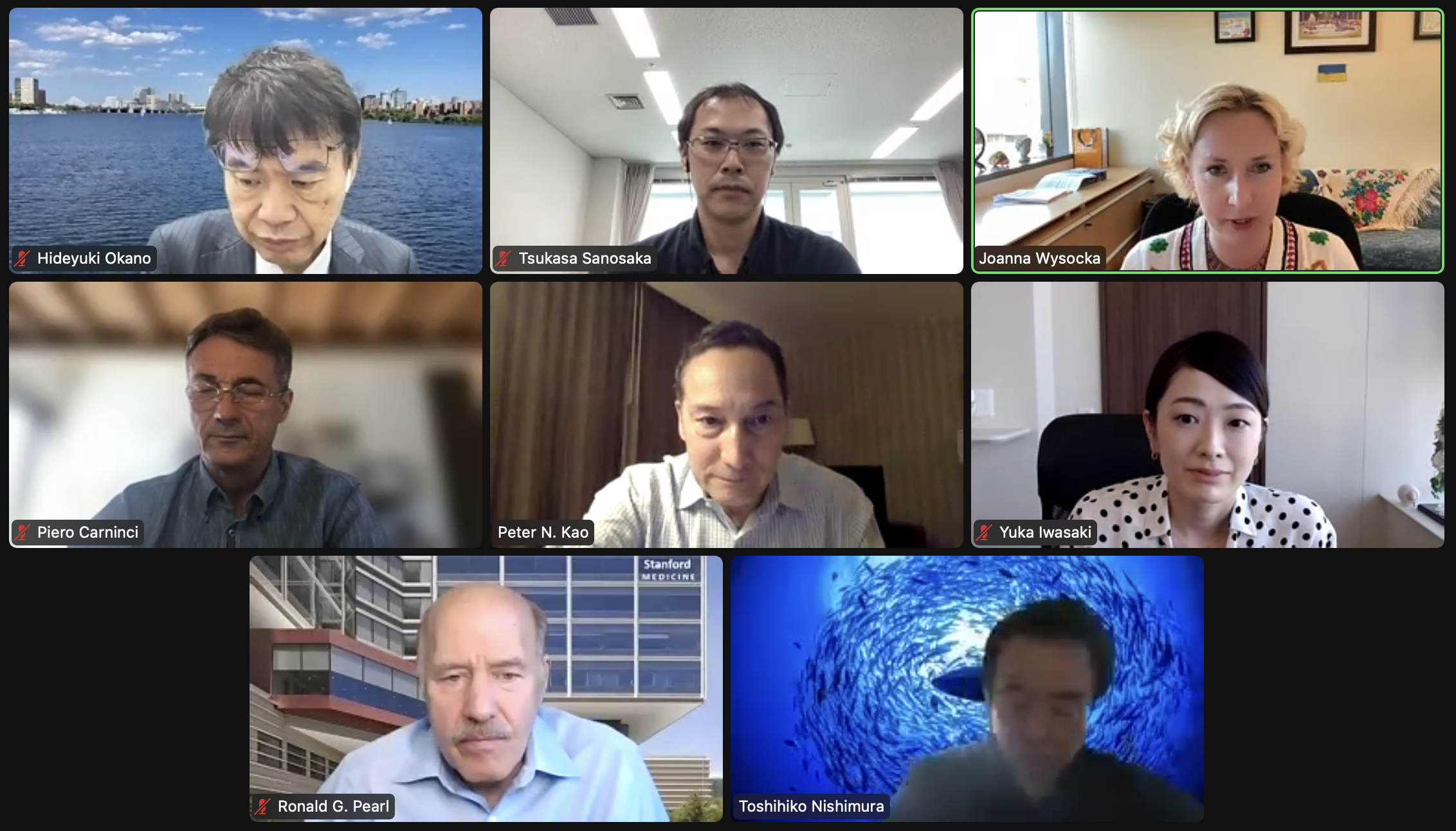 [Event information]
10th Keio-Stanford Webinar (October 1, 2022)
[Event report]
1st Keio-Stanford Webinar "Neurodegenerative diseases" (held on January 30, 2021)
2nd Keio-Stanford Webinar "Organoids" (held on March 20, 2021)
3rd Keio-Stanford Webinar "Regenerative medicine" (held on May 29, 2021)
4th Keio-Stanford Webinar "Sleep" (held on July 17, 2021)
5th Keio-Stanford Webinar "Transdifferentiation by Manipulating Transcriptional Factors" (held on October 16, 2021)
6th Keio-Stanford Webinar "Frontiers of molecular cell biology and its implementation in society" (held on November 6, 2021)
7th Keio-Stanford Webinar "Advanced BioScience Webinar for Drug, Device Development" (held on January 22, 2022)
8th Keio-Stanford Webinar "Current Topics in Neuroscience" (held on March 26, 2022)
9th Keio-Stanford Webinar "Pattern Formation and Stem Cell Development" (held on July 23, 2022)