Photoacoustic lymphangiography exhibits advantages over near-infrared fluorescence lymphangiography as a diagnostic tool in patients with lymphedema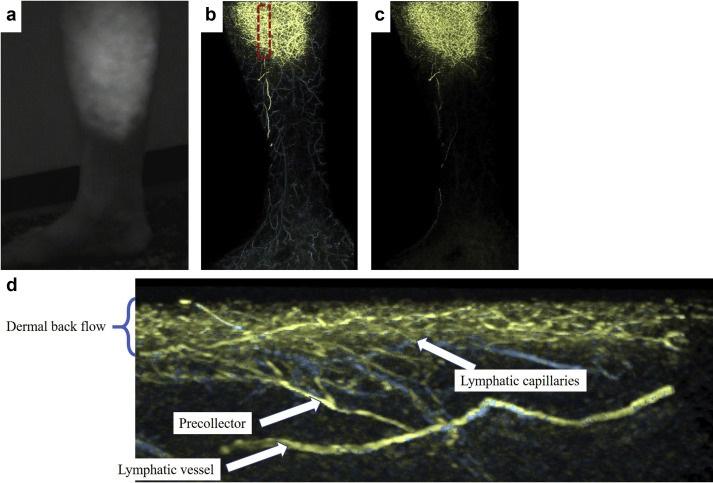 Title: Photoacoustic lymphangiography exhibits advantages over near-infrared fluorescence lymphangiography as a diagnostic tool in patients with lymphedema
Authors: Yushi Suzuki, Hiroki Kajita, Anna Oh, Moemi Urano, Shiho Watanabe, Hisashi Sakuma, Nobuaki Imanishi, Tetsuya Tsuji, Masahiro Jinzaki, Kazuo Kishi
Journal: Journal of Vascular Surgery: Venous and Lymphatic Disorders, Vol: 10, Issue: 2, Pages 454-462.e1 (2022)
DOI: 10.1016/j.jvsv.2021.07.012
Abstract:
Objective: Photoacoustic imaging is a new technique that can evaluate the vascular system using photoacoustic effects. The present study compared the ability of the new photoacoustic lymphangiography (PAL) method and more standard near-infrared fluorescence (NIRF) to image the lymphatic system in patients with secondary lymphedema after gynecological cancer surgery.

Methods: Patients with secondary lymphedema in the lower extremities after gynecologic cancer surgery, who were assessed using PAL between May 2018 and January 2019, were recruited. NIRF was performed first using 5.0 mg/mL of indocyanine green injected using a 0.2-cc 30-gauge needle. Correlations between NIRF and PAL findings on patient images were subsequently examined.

Results: Seventeen patients with secondary lymphedema were enrolled. The mean age of the patients was 61 ± 11 years. The imaging sites were the medial lower leg in 15 patients, the posterior lower leg in 9 patients, the lateral lower leg in 7 patients, the medial knee in 4 patients, and other areas in 3 patients. A total of 38 pictures were obtained. Five distinct lymphatic patterns were observed over the entire sample using PAL: straight, winding, spiderweb, nebulous, and black-out pattern. Eighteen of the 24 limbs (75%) that exhibited a linear pattern in NIRF exhibited a straight pattern in PAL, and 19 of the 20 limbs (95%) that exhibited a splash pattern in NIRF exhibited a winding or spiderweb pattern in PAL. Eight limbs exhibiting diffuse patterns without linear or splash patterns with NIRF were all nebulous or black-out patterns in PAL. This suggests that more severe lymphatic degeneration was associated with poorer visualization in PAL.

Conclusions: NIRF plays an important role in lymphedema treatment. In the present study, various PAL patterns were compared with those observed using NIRF. PAL provided clearer images including transectional views, which were not available using NIRF, and may promote further understanding of the changes in the lymphatic structure and function in patients with secondary lymphedema.
Related Articles: