Celebrating Professor David Farber's Election as a Fellow by the AAAS (KGRI researcher networking event)
2018.12.20
Over 100 members are affiliated to KGRI research projects. Because they belong to various faculties, graduate schools, research centers, and institutes at the university and are active at each of its campuses or off-site, researcher networking events are held about twice a year. These events are an opportunity for researchers specializing in different fields to meet, discuss, and share details of their research at KGRI.
At the outset of the researcher networking event held on November 30, KGRI Director Masato Yasui (Professor, School of Medicine) announced the joyous news that Professor David Farber (KGRI Distinguished Professor) was named as an Elected Fellow by the American Association for the Advancement of Science (AAAS), which was celebrated by those in attendance.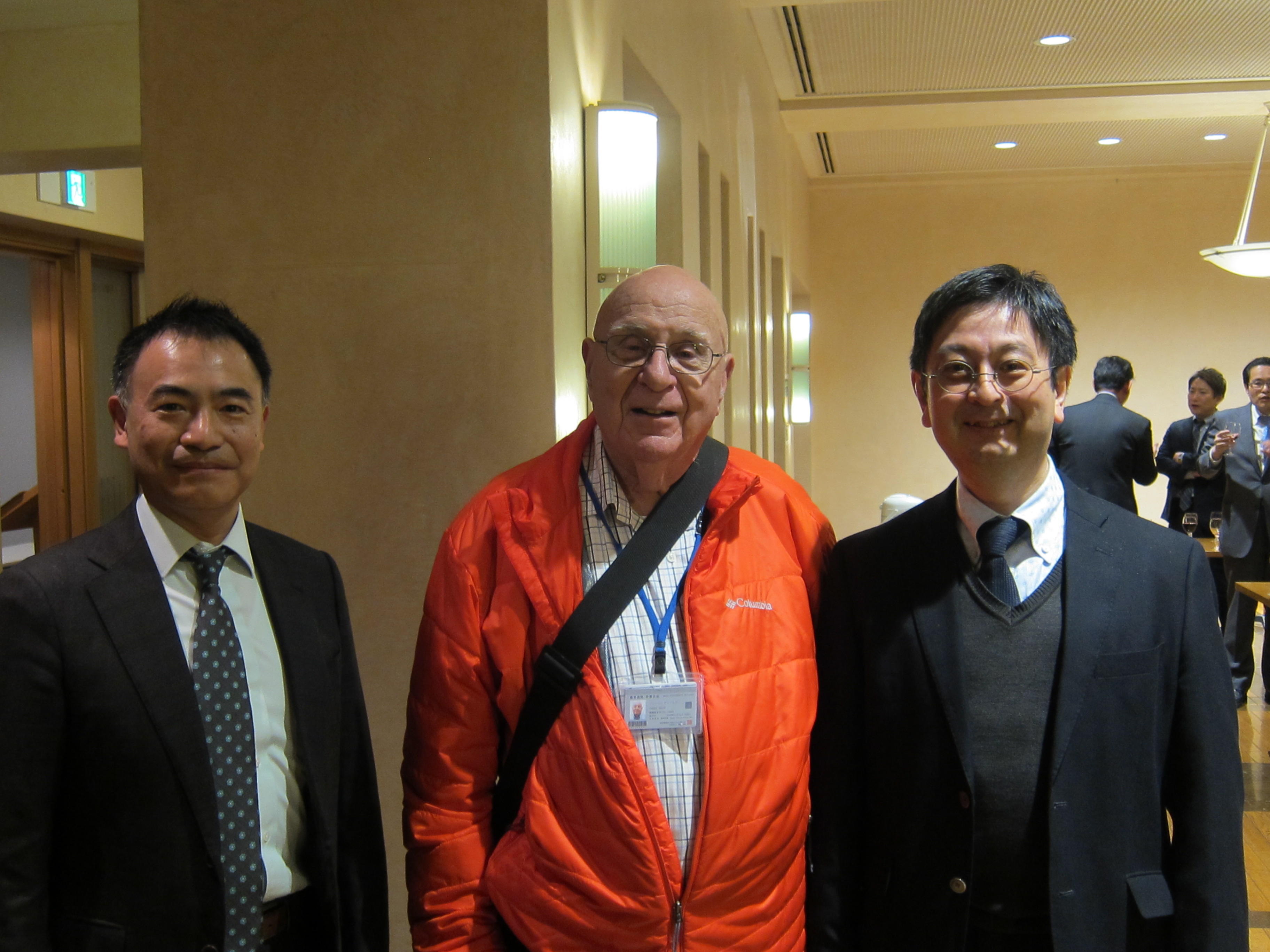 (from left Director Yasui, Professor David Farber, and Vice President Kokuryo)
Related website:
David Farber, KGRI Distinguished Professor, honored as Elected Fellow by the AAAS
https://www.keio.ac.jp/en/news/2018/Nov/28/48-49705/
The following was the program for the event.
----------------------------------------------------------
November 30 (Fri.) 17:30- Mita Campus
First part 17:30-18:30
1. Greetings from KGRI Director Masato Yasui (Professor, School of Medicine)
2. Research presentations: projects related to AI
Moderator: Motohiro Tsuchiya
(KGRI Deputy Director / Professor, Graduate School of Media and Governance)
"AI safety and security"
Danit Gal, Project Assistant Professor (Non-tenured) (Research)
Affiliated to the Cyber Civilization Research Center
http://www.kgri.keio.ac.jp/en/project/2018/I18-01.html
"The Shape of Thoughts"
Stephen Fitz, Project Assistant Professor (Non-tenured) (Research)
Program for the Advancement of Research in Core Projects <Creativity>
Affiliated to the Artificial Intelligence Utilization Project
http://www.kgri.keio.ac.jp/en/project/2018/C18-01.html
3. Round-table talks
Moderator: Masato Yasui (KGRI Director / Professor, School of Medicine)
"Possibilities of AI"
KGRI Deputy Director Tatsuhiko Yamamoto (Professor, Law School)
KGRI Deputy Director Kenji Yasuoka (Professor, Faculty of Science and Technology)
Mr. Ken Katayama, KGRI Guest Institute Member (Policy Evangelist, Cybersecurity and Privacy Policy Lead, Microsoft Japan Co., Ltd.)
Second part 18:30-19:30 Networking event
----------------------------------------------------------
| | |
| --- | --- |
| Ms. Danit Gal giving a presentation | Mr. Stephen Fitz giving a presentation |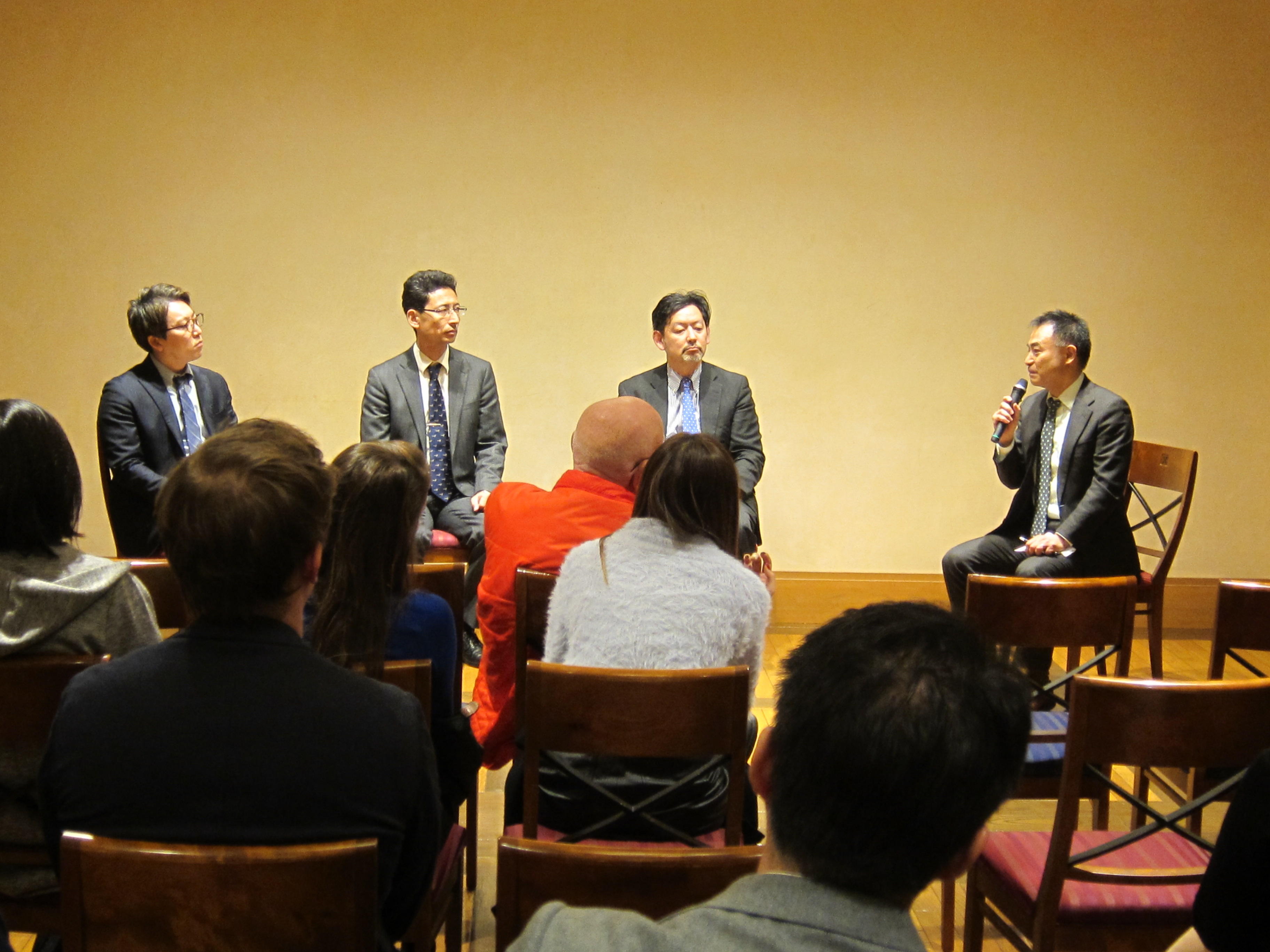 During the round-table talks(from left: Prof. Yamamoto, Prof. Yasuoka, Mr. Katayama, and Director Yasui)